Choose Showtime to Buy Tickets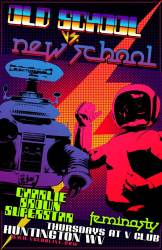 OLD SCHOOL VS NEW SCHOOL
W/ Dj's Charlie Brown Superstar & Feminasty $5 Liquor Pitchers Till 1AM!
Ages: 18+ Ages Price: $5
This Event Has Ended
Something Old, Something New, $5 Liquor Pitchers Too! Charlie Brown Superstar (LBA Records) and Feminasty are teaming up to provide a fresh, eclectic soundtrack to your Thursday night. Charlie Brown Superstar will be spinning songs from the 70's, 80's, and 90's, and Feminasty will be doing the same with songs from the 90's, 00's and whatever the hell you're supposed to call this decade.